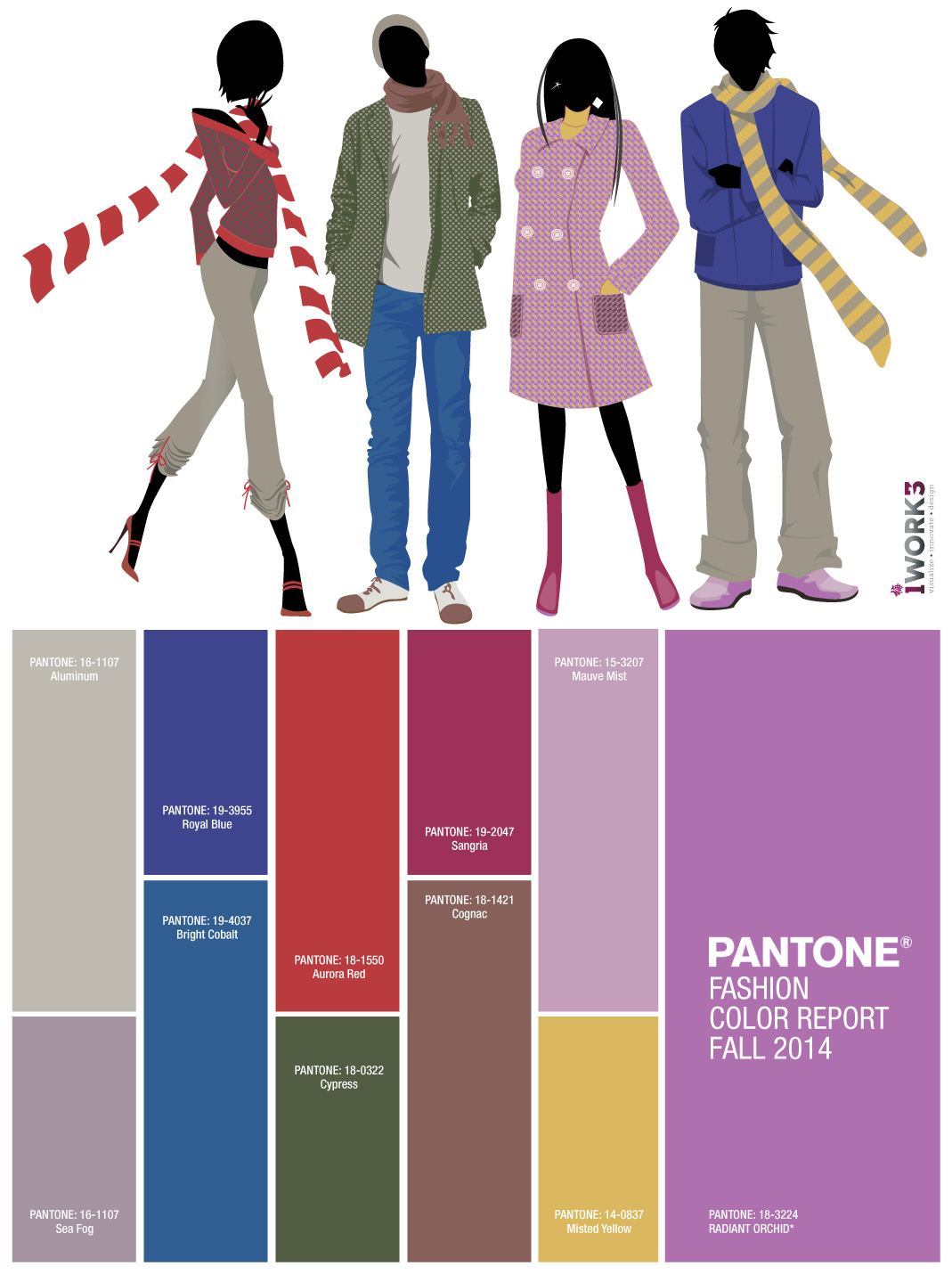 Timeless Colors that span a 100 years
At New York's Fashion Week earlier this year (for Fall 2014), designers blend spring's brighter colors with the traditional darker hues of fall/winter. Their diverse color palette takes us on an adventure spanning 100 years—a season roused by various vantage points from past and present.

Pantone's vibrant color of the year Radiant Orchid still reverberates in the new season, but is toned down with a lighter hue, the romantic Mauve Mist. Shades of red enhance the palette: with an exotic and invigorating red Sangria and an enhanced, more sophisticated Aurora Red that adds verve and spark.
Hex#: B163A3
RGB: 177.99.163
CMYK: 33.72.0.0
Pantone: 18-3224
Radiant Orchid*

Hex#: c49fba
RGB: 196.159.186
CMYK: 22.39.10.0
Pantone: 15-3207
Mauve Mist
Hex#: 9d3158
RGB: 157.49.88
CMYK: 32.93.47.14
Pantone: 19-2047
Sangria

Hex#: b93a3e
RGB: 185.58.62
CMYK: 20.91.77.9
Pantone: 18-1550
Aurora Red
Prints is a surprisingly popular trend this Fall season. And nothing brings out the patterns like complementary colors. Add a dash of sunshine and warmth during the dreary months with Misted Yellow, a pinch of glamor with the classy Cognacor pair the reds with the majestic and stunning Cypress for an eye-opening flowery catch.
Hex#: dbb960
RGB: 219.185.96
CMYK: 15.25.75.0
Pantone: 14-0837
Misted Yellow

Hex#: 886159
RGB: 136.97.89
CMYK: 41.60.59.20
Pantone: 18-1421
Cognac
Hex#: 525b41
RGB: 82.91.65
CMYK: 63.47.75.34
Pantone: 18-0322
Cypress

The cool colors come in the shade of the Bright Cobalt (with its greenish undertone), the dignified Royal Blue (more complex than the average navy) and the Sea Fog, a more masculine representation of Mauve Mist. These colors are accented by Aluminum, a futuristic stainless steel shade that serves as a complex neutral.
Hex#: 3f448c
RGB: 63.68.140
CMYK: 90.86.12.2
Pantone: 19-3955
Royal Blue

Hex#: 355e91
RGB: 53.94.145
CMYK: 87.66.19.4
Pantone: 19-4037
Bright Cobalt
Hex#: a593a1
RGB: 165.147.161
CMYK: 38.41.27.1
Pantone: 16-1107
Sea Fog

Hex#: 9c9688
RGB: 156.150.136
CMYK: 41.35.45.2
Pantone: 16-1107
Aluminum

At the end of the day, it's the pairings of the muted with the vibrant colors that really make this palette a unisex choice for the Fall 2014 season.