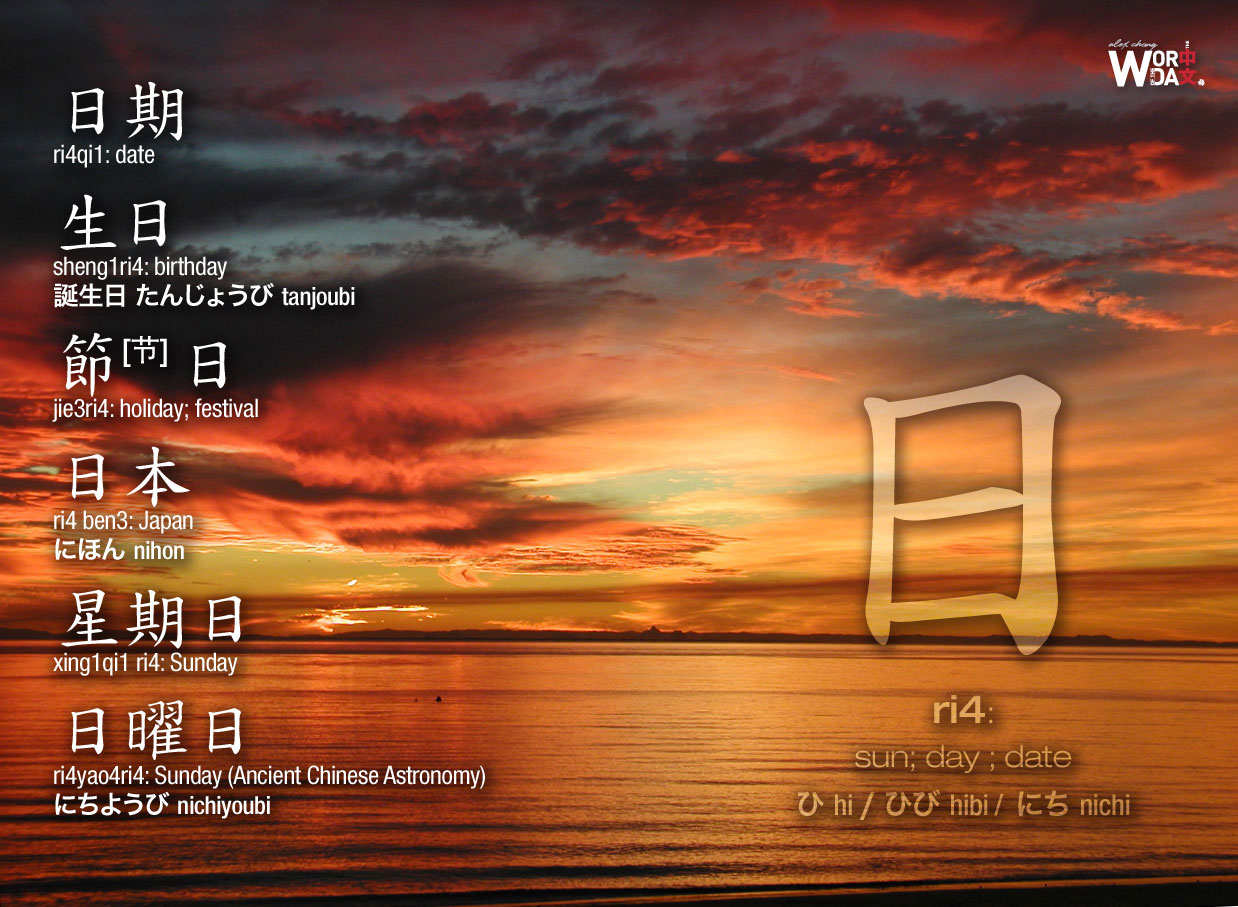 日 rì
noun | measure word | radical 72
: sun; day; date
Kun Reading
ひ hi
Adverbial noun, Temporal noun
: day; days
: sun; sunshine; sunlight
: case (esp. unfortunate); event
か ka
Noun suffix
: day of month
: (Counter) counter for days
On Reading
にち nichi
Noun
: (Abbreviation) Sunday; (Suffix) day (of the month)
: () counter for days
じつ jitsu
Usage
:
日期 ri4qi1: date
日報[报] ri4bao4: daily newspaper [にっぽう nippou: daily report]
日本 ri4ben3: Japan [にほん nihon OR にっぽん nippon]
日沒[没] ri4mo4: sunset; sundown [日没 | にちぼつ nichibotsu: sunset]
日食 ri4shi2: solar eclipse [にっしょく nisshoku]
日光浴 ri4 guang1 yu4: sunbathing [にっこうよく nikkouyoku]
日記[记]本 ri4ji4 ben3: diary
[日記 | にっき nikki OR 日記帳 | にっきちょう nikkichou]
網絡日記 [网络日记] wang3 luo4 ri4 ji4: blog; weblog; same as 博客 bo2ke4
今日 jin1 ri4: today
[こんにち konnichi OR こんち konchi OR こんじつ konjitsu OR きょう kyou: today; this day; these days; recently; nowadays]
明日 ming2 ri4: tomorrow
[みょうにち myounichi OR あす asu OR あした ashita]
終[终]日 zhong1 ri4: all day long
[ひもすがら himosugara OR ひめもす himemosu OR ひねもす hinemosu OR しゅうじつ shuujitsu: all day; whole day]
何日 he2 ri4: when? [なんにち nannichi: what day; how many days]
生日 sheng1ri4: birthday
[せいじつ seijitsu OR うまれび umarebi OR いくひ ikuhi: birthday; lucky day]
誕生日 たんじょうび tanjoubi
節[节]日 jie3ri4: holiday; festival
夏日 xia4 ri4: summertime [なつび natsubi OR かじつ kajitsu: summer's day]
早日 zao3ri4: soon; shortly; promptly
向日葵 xiang4 ri4 kui2: sunflower (Helianthus annuus) [ひまわり himawari]
星期日 xing1qi1 ri4: Sunday
OR 禮[礼]拜日 li3bai4 ri4: Sunday
主日 zhu3 ri4: Sabbath; Sunday [しゅじつ shujitsu]
主の日 | しゅのひ shunohi
日曜日 ri4yao4ri4: Sunday (Ancient Chinese Astronomy)
[にちようび nichiyoubi]

Japanese common word | expression
日々 | ひび hibi OR にちにち nichinichi: every day; daily; day after day; days (e.g. good old days)
毎日 | まいにち mainichi: every day
毎日毎日 | まいにちまいにち mainichi mainichi: day after day
丸一日 | まるいちにち maruichinichi: the whole day; all the day
日替わり | ひがわり higawari: daily special (meal)
日時 | にちじ ichiji: date and time
ある日 | あるひ aruhi: one day (e.g. "one day while studying, ..")
あの日 | あのひ anohi: that day
あくる日 | あくるひ akuruhi: next day; following day
いく日 | ikunichi いくにち: how many days?; what day (of month)?
日月火 | にちげつか nichigetsuka: Sunday, Monday and Tuesday
週七日 | しゅうなのか shuu nanoka: seven days a week
週六日 | しゅうむいか shuu muika: six days a week
週五日 | しゅういつか shuu itsuka: five days a week
週四日 | しゅうよっか shuu yokka: four days a week
週三日 | しゅうみっか shuu mikka: three days a week
週二日 | しゅうふつか shuu futsuka: two days a week
週一日 | しゅういちにち shuu ichinichi: one day a week
今日は | こんにちは konnichiwa: hello; good day (daytime greeting)
又会う日迄 | またあうひまで mata au hi made: till we meet again
明日は明日の風が吹く | あしたはあしたのかぜがふくashita wa ashita no kaze gafuku
: Tomorrow will take care of itself
明日の事を言えば鬼が笑う | あすのことをいえばおにがわらう asu no koto o ieba oni ga warau
: Nobody knows the morrow
明日の百より今日の五十 | あすのひゃくよりきょうのごじゅう asu no hyakuyori kyou no gojuu
: A bird in the hand is worth two in the bush
乳母日傘 | おんばひがさ onbahigasa OR おんばひからかさ onbahikarakasa
: (bringing up a child) with greatest care, pampering (him/her) with material comforts of a rich family; (being brought up) in a hothouse atmosphere
ローマは一日にして成らず | ローマはいちにちにしてならず rooma wa ichinichi ni shite narazu
: Rome was not built in a day

Chinese idiom
日久生情 ri4 jiu3 sheng1 qing2: familiarity breeds fondness
日曬[晒]雨淋 ri4 shai4 yu3 lin2
: scorched and drenched by sun and rain: suffer from exposure to the elements; weather-beaten
一日三秋 yi1 ri4 san1 qiu1
: a single day apart seems like three seasons
[いちにちさんしゅう ichinichi sanshuu OR いちじつさんしゅう ichijitsu sanshuu: (waiting) impatiently; (spending) many a weary day; each moment seeming like an eternity]
有朝一日 you3 zhao1 yi1 ri4: one day; sometime in the future
時日無多 [时日无多] shi2 ri4 wu2 duo1: time is limited
花無百日紅 [花无百日红] hua1 wu2 bai3 ri4 hong2: No flower can bloom for a hundred days. Good times do not last long
今日事今日畢[毕] jin1 ri4 shi4 jin1 ri4 bi4: never put off until tomorrow what you can do today
一日為師,終身為父 [一日为师,终身为父] yi1 ri4 wei2 shi1 , zhong1 shen1 wei2 fu4
: teacher for one day, father for ever
早知今日, 何必當[当]初 zao3 zhi1 jin1 ri4 he2 bi4 dang1 chu1
if I (you, she, he…) had known it would come to this, I (you, she, he…) would not have acted thus: to regret vainly one's past behavior
Etymology
:
象形 Pictographic.
Picture of the sun, which rises everyday.
"Sun" Radical 72
Music
:
心中的日月 – Wang Lee Hom 王力宏
作詞:陳宇任
作曲:王力宏
手中握著格桑花呀
美的讓我忘了摘下
你的真 帶著香 你的香 會說話
你的話 好像只 對我說
我的專長叫做流浪
你注定要為我綻放
我的心 尋找家 我的家 沒有花
我的花卻在這山谷等著我
若一開始 沒有上帝 暗中偷偷的慫恿
我們怎知選擇相逢
你是心中的日月 落在這裡
旅程的前後多餘 只為遇到你
多麼想幻化成為你腳下的泥
此刻的無人山谷 彷彿聽見說愛你
你是我心中的日月光芒
我的漂泊不懂泥巴
你的美麗不堪動盪
你單純 我迷惘 你戀家 我流浪
山谷中 這一切 帶不走
你愛抬頭擁抱陽光
我得眺望下個前往
我走開 你留下 我回憶 你昇華
至少我們會仰望同一片天空
若一開始 沒有上帝 暗中偷偷的慫恿
我們怎知選擇相逢
你是心中的日月 落在這裡
旅程的前後多餘 只為遇到你
多麼想幻化成為你腳下的泥
那天的無人山谷(那一天)彷彿聽見說愛你
置身在 傳說中 人間天堂
你是我 心中的 日月光芒
帶領我 找到你 的芬芳
放不下
你是心中的日月 落在這裡
旅程的前後多餘 只為遇到你
多麼想幻化成為你腳下的泥
那天的無人山谷 彷彿聽見說愛你
那天那天聽見
那天那天的無人山谷
那天聽
聽見愛你
你是心中的日月 落在這裡
旅程的前後多餘 只為遇到你
多麼想幻化成為你腳下的泥
那天的無人山谷 彷彿聽見說愛你
你是心中的日月 落在這裡
旅程的前後多餘 只為遇到你
多麼想幻化成為你腳下的泥
那天的無人山谷 彷彿聽見說愛你
credit: Wang Lee Hom 王力宏
Resources: Chinese Dictionary | Japanese Dictionary