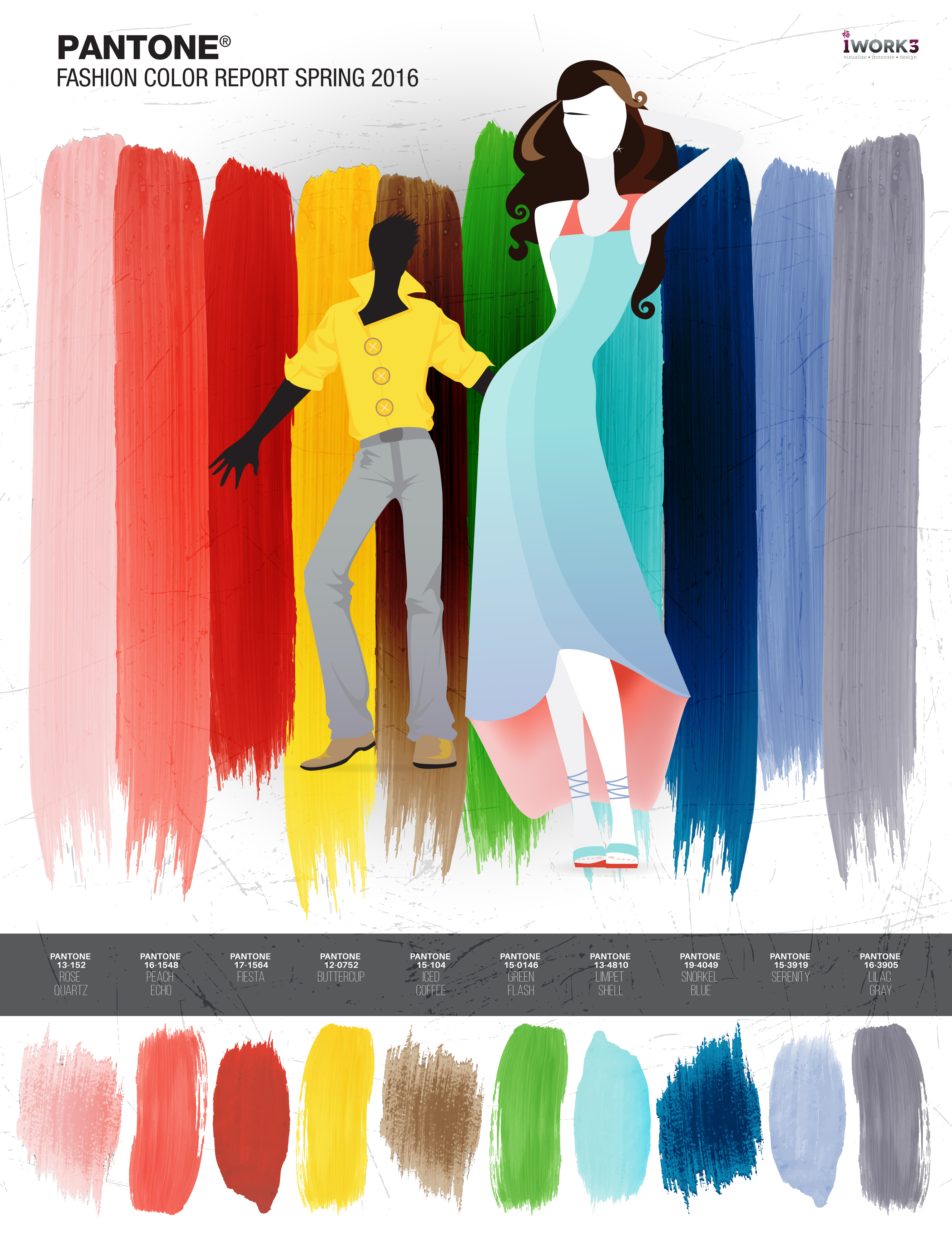 Transporting and Transformative Canvas
This season's unisex colors gravitate toward a calming and peaceful palette, which pays homage to the beauty of natural resources. The tones encourage relaxation, curiosity and exploration. The vibrant colors that are simultaneously quieting and classic "transports us to a happier, sunnier place where we feel free to express a wittier version of our real selves," according to Leatrice Eiseman, executive director of the Pantone Color Institute™
The Spring 2016 collection is led by PANTONE 13-1520 Rose Quartz, a persuasive yet gentle tone that conveys compassion and a sense of composure. It is not surprising that a subtle orange,PANTONE 16-1548 Peach Echo, appears in this collection, following the fashion and design communities love for that color for several seasons. Capping off the warm hues is the high energy PANTONE 17-1564 Fiesta, a harbinger of excitement and pursuit of adventure. Finally, PANTONE 12-0752 Buttercup is a slight deviation from the calm palette, bringing with it a beacon of hope.
Hex#: F7CAC9
RGB: 247.202.201
CMYK: 1.24.15.0
Pantone: 13-1520
*Rose Quartz
Hex#: F7786B
RGB: 247.120.107
CMYK: 0.67.53.0
Pantone: 16-1548
Peach Echo

Hex#: DD4132
RGB: 221.65.50
CMYK: 8.89.90.1
Pantone: 17-1564
Fiesta
Hex#: FAE03C
RGB: 250.224.60
CMYK: 4.7.87.0
Pantone: 12-0752
Buttercup

As in most any season, neutrals have its place in the 2016 Spring collection. Transitional color PANTONE 15-1040 Iced Coffee is a strong neutral for the season. While PANTONE 16-3905 Lilac Gray adds a distinctive edge to this classic gray shade.
Hex#: B18F6A
RGB: 177.143.106
CMYK: 30.41.63.4
Pantone: 15-1040
Iced Coffee
Hex#: 9896A4
RGB: 152.150.164
CMYK: 43.38.27.1
Pantone: 16-3905
Lilac Gray

Finally, Spring 2016's cool hues: nature's PANTONE 15-0146 Green Flash calls on its wearer to explore, push the envelope and escape the mundane. A shade of aqua that leans toward the green family, PANTONE 13-4810 Limpet Shell is clear, clean and defined. A maritime-inspired blue, PANTONE 19-4049 Snorkel Blue plays in the navy family, but with a happier, more energetic context. Rounding off the season's colors is a transcendental blue, PANTONE 15-3919 Serenity, a weightless and airy hue, which comforts and brings respites even in turbulent times.
Hex#: 79C753
RGB: 121.199.83
CMYK: 56.0.90.0
Pantone: 15-0146
Green Flash

Hex#: 98DDDE
RGB: 152.221.222
CMYK: 37.0.15.0
Pantone: 13-4810
Limpet Shell

Hex#: 034F84
RGB: 3.79.132
CMYK: 99.74.24.7
Pantone: 19-4049
Snorkel Blue

Hex#: 92A8D1
RGB: 146.168.209
CMYK: 42.24.3.0
Pantone: 15-3919
*Serenity