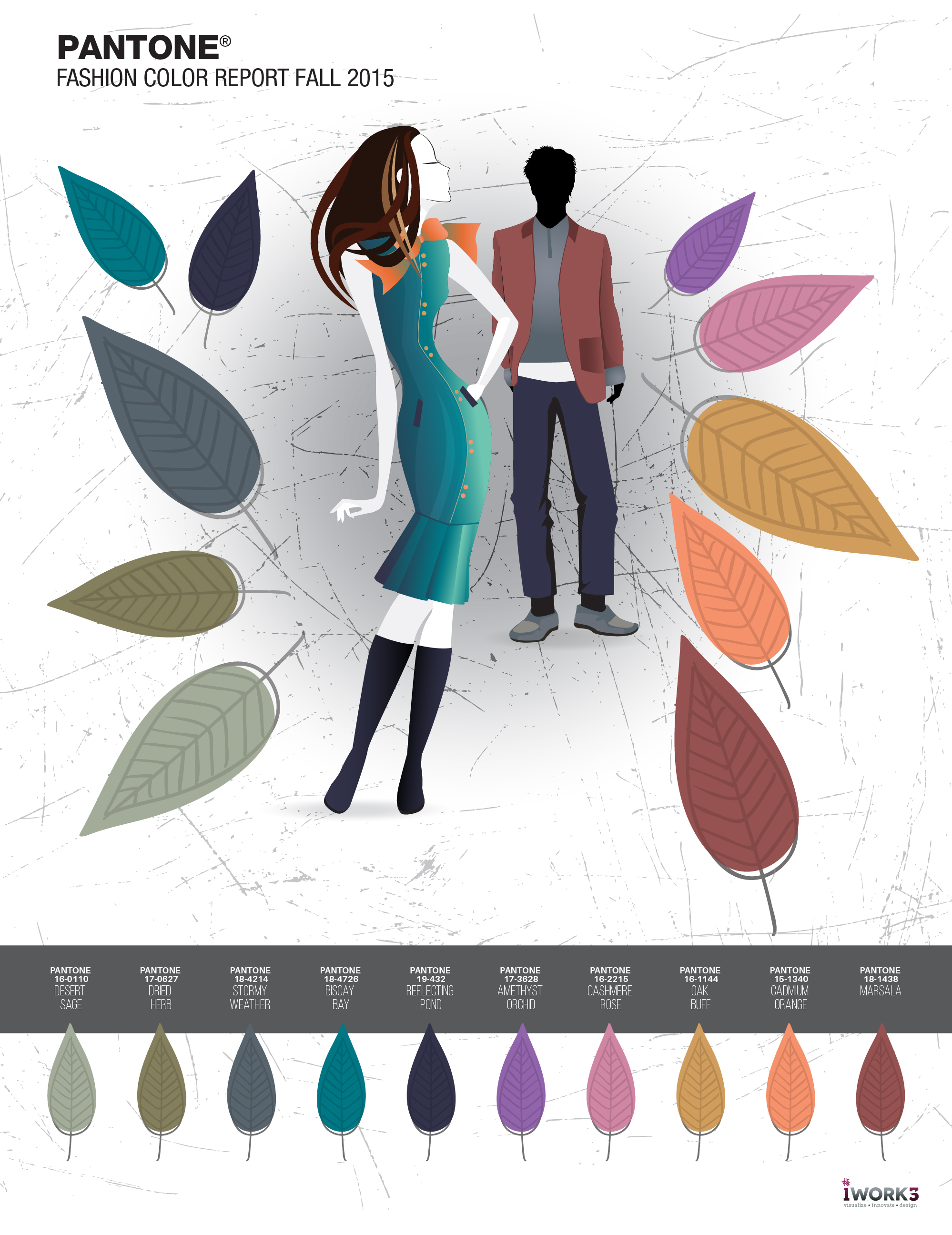 Fall 2015 Landscape of Evolving Colors
This autumn, earthy neutrals will blend with bold colors and patterns; the rich, multifaceted colors evoking love for nature, warmth and security. More importantly, the androgynous colors allow the designers to pay homage to provoking eras throughout the American history – from the seductive '20s to the bohemian hippie and modernists of the '60s and '70s – without being reliant on typical gender assigned colors.
Fall 2015 top ten Pantone colors in fashion:
The top ten colors begin with a perfect neutral: the cool and soothing greenish gray, PANTONE 16-0110 Desert Sage. It is timeless and unobtrusive yet powerful enough to make a statement on its own. Then comes PANTONE 17-0627 Dried Herb, an olive shade once strictly for safari or military use, now elevated into a color of sophistication. The PANTONE 18-4214 Stormy Weather is a dependable and luxurious color, reminiscent of the sky on a gray, overcast day. The cool hues ends with a lush, striking and elegant teal, PANTONE 18-4726 Biscay Bay that is serene yet invigorating and inviting.
Hex#: A3AC99
RGB: 163.172.153
CMYK: 38.24.41.1
Pantone: 16-0110
Desert Sage
Hex#: 847F5D
RGB: 132.127.93
CMYK: 47.40.68.13
Pantone: 17-0627
Dried Herb

Hex#: 58646D
RGB: 88.100.109
CMYK: 68.53.45.19
Pantone: 18-4214
Stormy Weather

Hex#: 007784
RGB: 0.119.132
CMYK: 88.38.42.9
Pantone: 18-4726
Biscay Bay
The upscale and rich PANTONE 16-2215 Cashmere Rose is a play on the '60s with a twist of today. Reminiscent from the previous year's color of the year, Pantone: 18-3224 Radiant Orchid, the PANTONE 17-3628 Amethyst Orchid is the jewel in the crown for this palette. Intriguing, vibrant and somewhat sensual, the enigmatic Amethyst Orchid is an extraordinary hue that is unique, bold, creative and exciting.
Hex#: CF86A3
RGB: 207.134.163
CMYK: 17.56.16.0
Pantone: 16-2215
Cashmere Rose
Hex#: 9164AB
RGB: 145.100.171
CMYK: 47.70.0.0
Pantone: 17-3628
Amethyst Orchid

Finally, the warmer hues: The PANTONE 16-1144 Oak Buff is a mellow, comforting and warming shade that brings good cheer and hope. Following the ray of sunshine, is the playful yet sophisticated PANTONE 15-1340 Cadmium Orange that is a nod to the '60s and '70s. Pantone's color of the year, the rich, bold and sensual PANTONE 18-1438 Marsala adds finesse and savoir faire to the mix. Adding weightiness and depth to the palette, PANTONE 19-4326 Reflecting Pond rounds of the color scheme with thoughtful and stable credibility.
Hex#: D09D5D
RGB: 208.157.93
CMYK: 18.39.76.1
Pantone: 16-1144
Oak Buff

Hex#: F5926C
RGB: 245.146.108
CMYK: 0.52.58.0
Pantone: 15-1340
Cadmium Orange

Hex#: 955251
RGB: 150.79.76 (149.82.81)
CMYK: 25.77.64.11 (33.73.61.19)
Pantone: 18-1438
Marsala*

Hex#: 32334A
RGB: 50.51.74
CMYK: 82.77.46.43
Pantone: 19-4326
Reflecting Pond

The Fall 2015 hues are also a perfect fit for beauty. Layer Cadmium Orange, Cashmere Rose and Amethyst Orchid for an exotic eye shadow look, or Desert Sage and Oak Buff for a softer, more natural appearance. Add Dried Herb to nearly any combination for a bit more depth and interest. Biscay Bay provides a sprinkle of coolness to warm undertones or adds a harmonizing and subtle touch to neutrals such as Desert Sage and Dried Herb. Highlight natural tones with a soft and subtle splash of playful Cashmere Rose and introduce sophisticated Marsala for an appealing and enticing vibe.