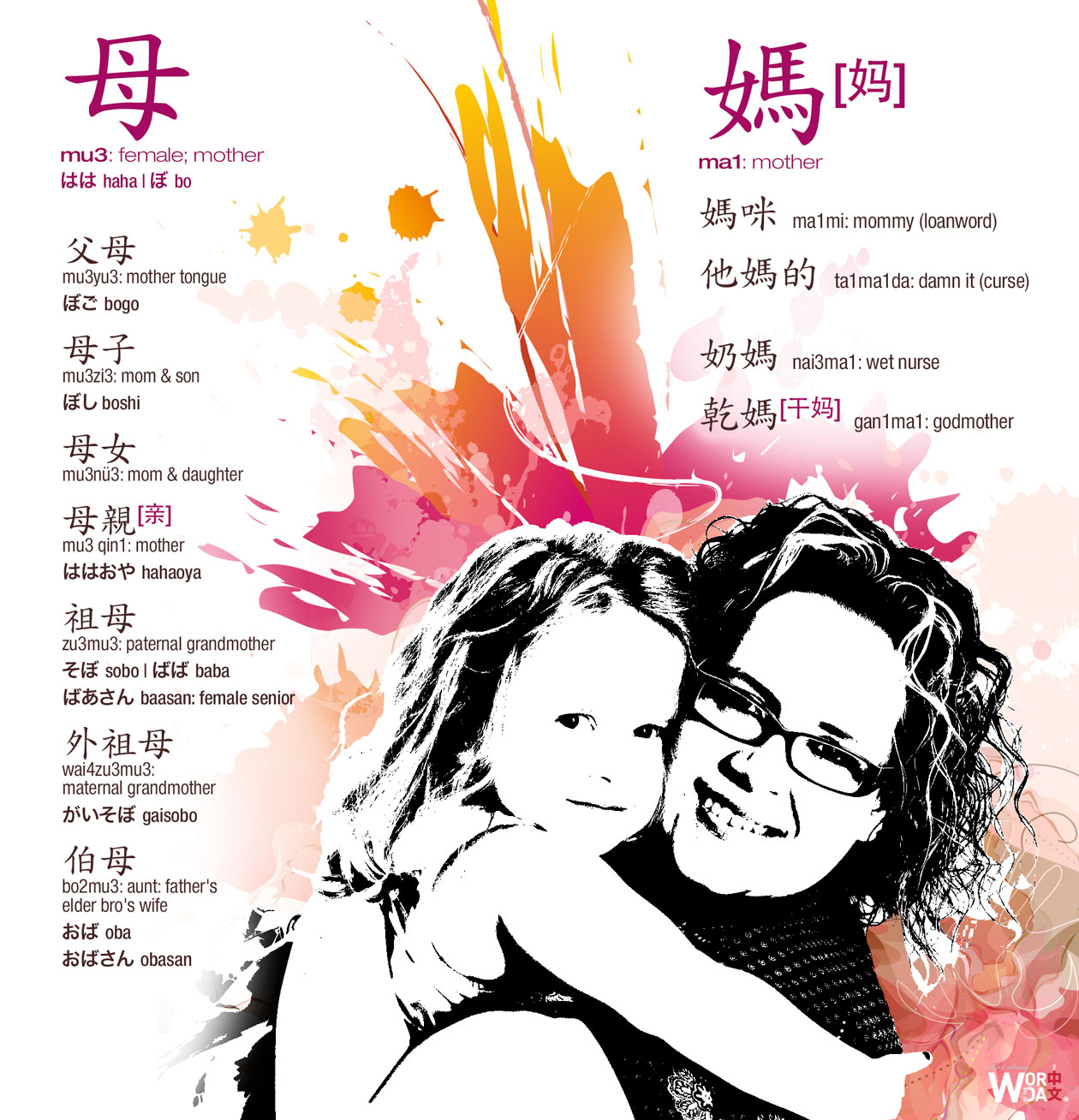 母 mǔ
noun
: mother
: female
毋 wú [勿 wù]
radical 80
媽 [妈] mā
noun
: mother
Kun Reading
母 | はは haha
noun
: (Humble (kenjougo) language) mother
> 母上 | ははうえ hahaue: mother (esp. used in samurai families prior to the Meiji period)
母ちゃん | かあちゃん kaachan
noun
: mum; mom
> お母ちゃん | おかあちゃん: mum; mom
母さん | かあさん kaasan
noun
: mother
> 御母 | おかあ okaa: mother
> 御母さん | おかあさん okaasan: mother (honorific; polite language)
> 御母様 | おかあさま okaa sama: mother (honorific; polite language)
> 御祖母ちゃん | おばあちゃん obaachan: granny; grandma; female senior-citizen
毋部 [勿れ | なかれ nakare]
noun
: Radical 80 meaning "mother" or "do not"
Usage
:
母語 mu3yu3: mother tongue; native language [ぼご bogo]
母子 mu3zi3: mom & son [ぼし boshi]
母女 mu3nü3: mom & daughter
母親 mu3 qin1: mother [ははおや hahaoya]
父母 fu4mu3: parents [ふぼ fuho OR ちちはは chichihaha]
伯母 bo2mu3: aunt/father's elder brother's wife
[おば oba OR おばさん obasan OR はくぼ hakubo]
祖母 zu3mu3: paternal grandmother
[そぼ sobo OR ばば baba OR ばあさん baasan: female senior]
外祖母 wai4zu3mu3: maternal grandmother [がいそぼ gaisobo]
曾祖母 zeng1 zu3 mu3: paternal great-grandmother
[ひばば hiooba OR ひおおば hiibaba]
媽咪 ma1mi: mommy (loanword)
他媽的 ta1ma1da: damn it (curse)
肏你媽 cao4 ni3 ma1: f* your mother (vulgar) 奶媽 nai3ma1: wet nurse 乾媽[干妈] gan1ma1: godmother 姑媽 gu1 ma1: (coll.) father's married sister; paternal aunt 姨媽 yi2ma1: (coll.) mother's sister; maternal aunt
大姨媽 da4 yi2 ma1: great aunt; (slang) menstruation; period (OR sanitary napkins)
南拳媽媽 nan2 quan2 ma1 ma1
: Nan Quan Mama, a Taiwanese Music Group. The name is a phrase in Chinese to explain having strength while being gentle as a mother. They are closely tied with the Taiwanese artist Jay Chou.

Japanese common word / expression
孟母三遷 | もうぼさんせん moubo sansen
: the importance of creating an environment conducive to a child's learning; Mencius' mother, three moves
女は弱しされど母は強し | おんなはよわしされどはははつよし onna wa yowashi saredo haha wa tsuyoshi
: though the woman is weak, the mother is strong
*必要は発明の母 | ひつようははつめいのはは hitsu you wa hatsumei no haha
: necessity is the mother of invention

Chinese expression / proverb
婆婆媽媽 [婆婆妈妈] po2po ma1ma1
: kindhearted; motherly; effeminate; old-womanish; fainthearted; overly careful; overly sensitive; maudlin
*需要是發明之母 [需要是发明之母] xu1 yao4 shi4 fa1 ming2 zhi1 mu3
: necessity is the mother of invention
Etymology
:
母
象形
Pictographic
.
Picture of a kneeling woman with breasts (i.e. a mother).

媽
形声 Pictophonetic.
女 (nü3: woman; feminine radical 38) suggests the meaning while
馬 (ma3: horse) provides the sound.

"Do not" radical #80

簡體 Simplified.
妈. Derived from generic character simplification rule #73 (馬 » 马) via usage of grass script form of character.
Music
:
聽媽媽的話 – Jay Chou 周杰伦
作詞:周杰倫
作曲:周杰倫
小朋友你是否有很多問號
為什麼 別人在那看漫畫 我卻在學畫畫 對著鋼琴說話
別人在玩遊戲 我卻靠在牆壁背我的ABC
我說我要一台大大的飛機 但卻得到一台舊舊錄音機
為什麼要聽媽媽的話 長大後你就會開始懂了這段話
長大後我開始明白
為什麼我跑得比別人快 飛得比別人高
將來大家看的都是我畫的漫畫 大家唱的都是我寫的歌
媽媽的辛苦不讓你看見 溫暖的食譜在她心裡面
有空就多多握握她的手 把手牽著一起夢遊
聽媽媽的話 別讓她受傷 想快快長大 才能保護她
美麗的白髮 幸福中發芽 天使的魔法 溫暖中慈祥
在你的未來 音樂是你的王牌 拿王牌談個戀愛
唉!我不想把你教壞 還是聽媽媽的話吧 晚點再戀愛吧
我知道你未來的路 但媽比我更清楚
你會開始學其他同學在書包寫東寫西
但我建議最好寫媽媽我會用功讀書
用功讀書 怎麼會從我嘴巴說出
不想你輸 所以要叫你用功讀書
媽媽織給你的毛衣 你要好好的收著
因為母親節到時 我要告訴她我還留著
對了 我會遇到周潤發
所以你可以跟同學炫耀賭神未來是你爸爸
我找不到童年寫的情書 你寫完不要送人
因為過兩天你會在操場上撿到
你會開始喜歡上流行歌 因為張學友開始準備唱吻別
聽媽媽的話 別讓她受傷 想快快長大 才能保護她
美麗的白髮 幸福中發芽 天使的魔法 溫暖中慈祥
聽媽媽的話 別讓她受傷 想快快長大 才能保護她
credit: Jay Chou 周杰倫
Resources: Chinese Dictionary | Japanese Dictionary