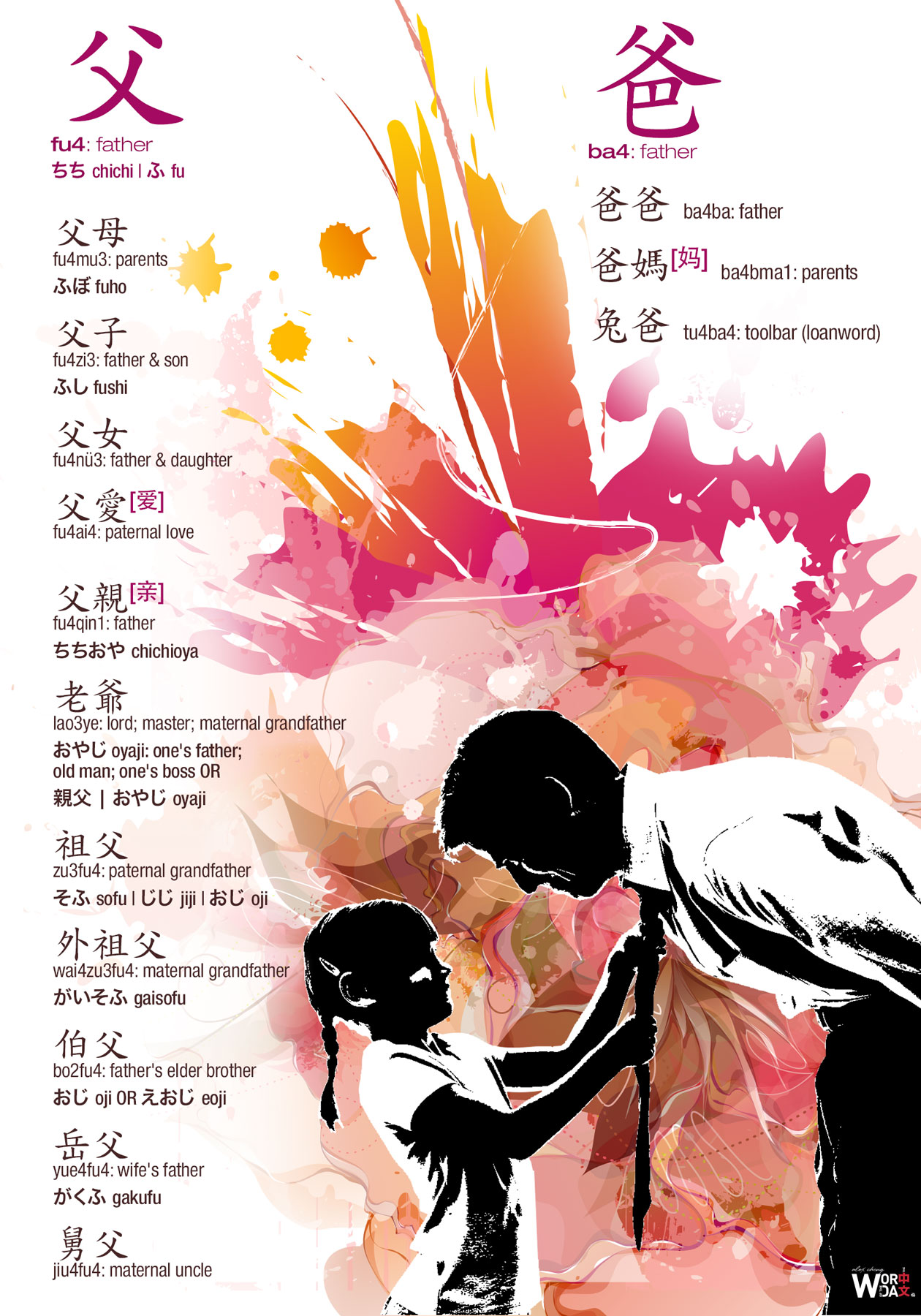 父 fù
radical 88
: father
爸 bà

: father
Kun Reading
父 | ちち chichi
noun
: (Humble (kenjougo) language) father
> 父上 | ちちうえ chichiue: father (esp. used in samurai families prior to the Meiji period)
父 | ちゃん chan
noun
: (Humble (kenjougo) language) father
> 父ちゃん | とうちゃん touchan: dad; daddy; papa; pa; pop
父さん | とうさん tousan
noun
: father; dad; papa; pa; pop; daddy; dada
> 御父 OR お父 | おとう otou: (honorific or respectful language) (familiar language) (abbreviation) daddy; father; husband
> お父さん | おとうさん otousan: father (polite language)
Usage
:
父母 fu4mu3: parents [ふぼ fuho OR ちちはは chichihaha]
父子 fu4zi3: father & son [ふし fushi]
父女 fu4nü3: father & daughter
父爱 fu4ai4: paternal love
父親[亲] fu4qin1: father [父親 | ちちおや chichioya]
老爺 lao3ye: lord; master; maternal grandfather
[おやじ oyaji: one's father; old man; one's boss OR 親父 oyaji]
祖父 zu3fu4: paternal grandfather [そふ sofu; じじ jiji; おじ oji]
外祖父 wai4zu3fu4: maternal grandfather [がいそふ gaisofu]
伯父 bo2fu4: father's elder brother [おじ oji OR えおじ eoji]
岳父 yue4fu4: wife's father [がくふ gakufu]
舅父 jiu4fu4: maternal uncle
師[师]父 shi1 fu4: master; qualified worker
[師父 | しふ shifu: fatherly master]
神父 shen2 fu5: Christian priest or clergyman; (spiritual) father
[しんぷ shinpu: Catholic priest; abbe; reverend father; minister; padre]
爸爸 ba4ba: father
爸媽[妈] ba4ma1: parents
兔爸 tu4ba4: toolbar (loanword)

Japanese common word | expression
狸親父 | たぬきおやじ tanuki oyaji
: sly (cunning) old man
雷親父 | かみなりおやじ kaminari oyaji
: snarling old man; irascible old man
頑固親父 | がんこおやじ ganko oyaji
: stubborn (obstinate) father; pig-headed old man
君父の讐は倶に天を戴かず | くんぷのあだはともにてんをいただかず kunpu no ada wa tomo ni ten o itadakazu
: not wanting to live in the same world as one's father's or lord's enemies; being prepared to sacrifice one's life to avenge one's father or lord
父の代わりとして | ちちのかわりとして chichi no kawari toshite
: in place of one's father

Chinese idiom
再生父母 zai4 sheng1 fu4 mu3
: like a second parent; one's great benefactor
認賊作父 [认贼作父] ren4 zei2 zuo4 fu4
: lit. to acknowledge the bandit as one's father; fig. a complete betrayal; to sell oneself to the enemy
一日為師,終身為父 [一日为师,终身为父] yi1 ri4 wei2 shi1 , zhong1 shen1 wei2 fu4
: lit. teacher for one day, father for ever
師父領進門,修行在個人 [师父领进门,修行在个人] shi1 fu5 ling3 jin4 men2 , xiu1 xing2 zai4 ge4 ren2
: the master leads you to the door, the rest is up to you. You can lead a horse to water but you can't make him drink
有其父必有其子 you3 qi2 fu4 bi4 you3 qi2 zi3
: like father, like son
Etymology
:
父
象形
Pictographic
.
Originally a picture of a hand with a stone ax.

假借 Phonetic Loan.
Original form of 斧 (fu3: hatchet).

爸
形声 Pictophonetic.
父 (fu4: father radical 88) suggests the meaning while
巴 (ba1: greatly desire) provides the sound.

"Father" radical 88
Music
:
父母唄 Fubo Uta – Greeeen
作詞:GReeeeN
作曲:GReeeeN
幼い頃 あれは夏のあの日
あなたの背中で寢た掃り道
遊び疲れ 僕遲くなり
あなたに心配かけていた日々
あれからいくつか年月も過ぎ
少し生意氣盛り反抗期
體當たりで叱るあなたの
心の奧に少し觸れました
全て受け入れてくれたよね
素直になれず悲しくさせた
こんな僕にいつもいつでも
笑いかけてくれて
父よ母よただありがとう
何も出來ない僕だけど
あなたがくれた愛の全て
強く抱きしめて生きてく
いつからか距離が生まれては
自ら親とは離れていた
恥ずかしいとか ウザイとか
言って格好ばっかつけてた
だけどたまに見かけた寂しい顏
がかなりバカらしい悲しい過去
って氣付いたから 僕の方から
今度電話かけてみるから
いつもあまり話さないけど
「しつこいよ」と言ってしまって
それでもあなた いつも溫もりを
くれた こんな僕に
父よ母よただありがとう
あなたの子として生まれて
これ以上ない幸せを 抱きしめ
嚙み締め 生きてく
あの日初めて乘った自轉車
うまく乘れずに僕泣いていた
あなたは血の出る膝小僧
「痛そう」と優しい顏でなぐさめていた
あれから月日は流れある年
サビついた補助輪見つけ出すとき
僕の子にも 同じ顏して笑いかけると決めた
僕が生まれ いままでの中
あなたに何か返せたろうか?
だけど ひとつ 言えるとしたら
「いつも ありがとう」
父よ母よただありがとう
何度言っても足りないよ
あなたがくれた愛を全て
言葉にできたらいいのにな
父よ母よただありがとう
素直に言いたい氣持ちを
あなたがくれた愛は全て
今もこれからも僕になる
credit: Greeeen
Resources: Chinese Dictionary | Japanese Dictionary