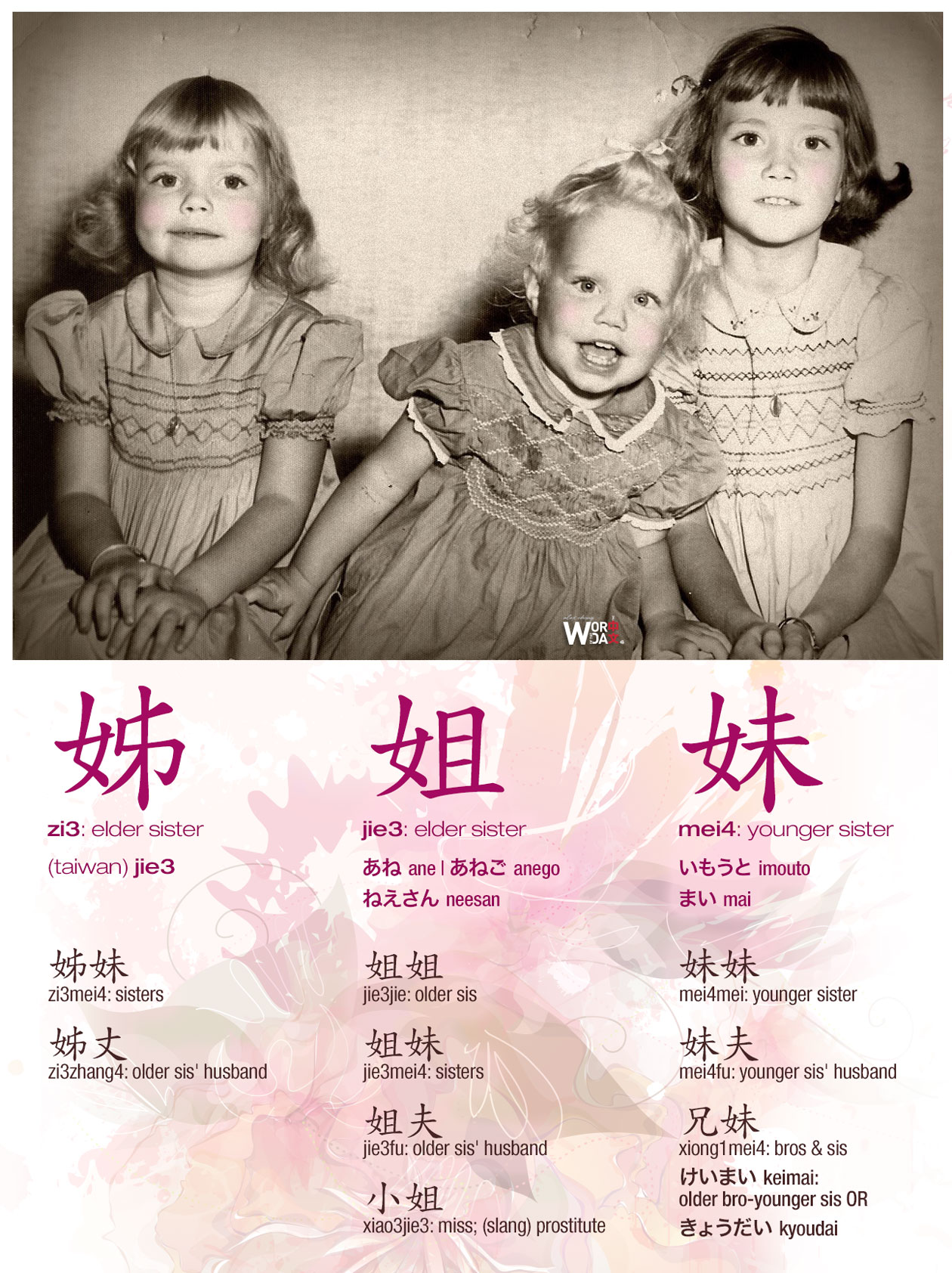 姐 jiě

: elder sister
姊 zǐ

: elder sister
Kun Reading
姐 OR 姊 | あね ane
noun
: (Humble (kenjougo) language) older sister; elder sister
姐 | ねえや neeya
noun
: (Usually written using kana alone, Familiar language) young lady (in ref. to a maid, etc.)
姐 | あねさん aneesan OR ねえさん neesan OR お姐さん oneesan
noun
: (Honorific or respectful language) elder sister
: (vocative) young lady
: miss (referring to a waitress, etc.)
: ma'am (used by geisha to refer to their superiors)
姊 | nee ねえ nee
noun
: (Honorific or respectful language) elder sister
On Reading
none applicable
Usage
:
姐姐 jie3jie: older sister
姐妹 jie3mei4: sisters
姐夫 jie3fu: older sisters' husband
大姐 da4jie3: big sister; elder sister; older sister (also polite term of address for a girl or woman slightly older than the speaker)
堂姐 tang2jie3: older female patrilineal cousin
表姐 biao3 jie3: older female cousin matriarchal line
小姐 xiao3jie3: miss; (slang) prostitute
大小姐 da4 xiao3 jie3: eldest daughter of an affluent family; (polite) your daughter; bossy or indulged young woman; Miss High and Mighty
空中小姐 kong1zhong1 xiao3jie3: stewardess; air hostess; female flight attendant
(Taiwan: 姊 jie3)
姊妹zi3mei4: sisters
姊丈zi3zhang4: older sisters' husband
Etymology
:
形声
Pictophonetic
.
女 (nü3: woman/feminine radical 38) suggests the meaning while
且 (qie3: moreover) provides the sound.

Examples:
我姐好兇惡。
wo3 jie3 hao xiong1'e4.
My elder sister is frighteningly fierce.
Resources: Chinese Dictionary | Japanese Dictionary