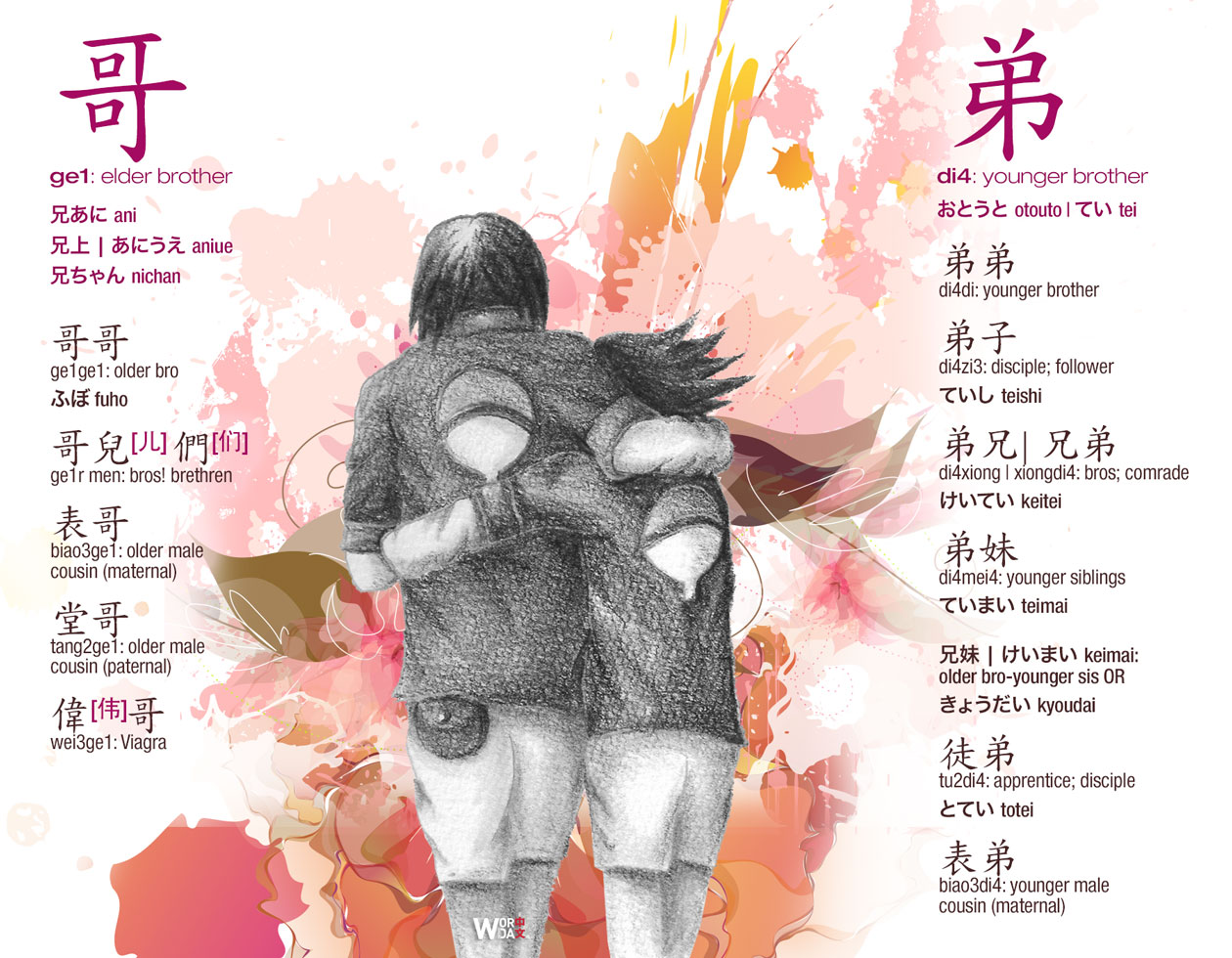 哥 gē

: elder brother
兄 xiōng

: elder brother
Kun Reading
哥 | うた uta
noun
兄 | あに ani
noun
: (Humble (kenjougo) language) older brother
兄い | あにい anii
noun
: (Colloquialism) (Familiar language) elder brother; one's senior
: dashing young man; gallant young lad
兄 | にい nii
noun suffix
: (Familiar language) used after the name of someone who is an older brother figure; (Noun) used with various honorifics to mean (older) brother
兄さま | にいさま nii sama
noun
: (Honorific or respectful language) older brother
兄ちゃん | にいさん ni-chan OR 兄さん | あにさん ani-san
noun
: (Honorific or respectful language) older brother; elder brother;
: brother (as older-brother figure in friendly and or work relationship);
: (vocative) young man; buddy; fella; laddie
御兄さん | おにいさん oniisan
: older brother; elder brother
: (vocative) young man; buddy; fella; laddie
On Reading
哥 | か ka
noun
兄 | けい kei
noun | noun suffix
: elder brother
: (Familiar language) (Male term or language) pronoun or suffix used in reference to an older brother figure; Mister; Mr
Usage
:
哥哥ge1ge1: older bro
哥兒[儿]們[们] ge1r men: bros! brethren
哥大 ge1da4: Columbia University (abbr)
表哥biao3ge1: older male cousin (maternal)
堂哥tang2ge1: older male cousin (paternal)
偉[伟]哥wei3ge1: Viagra
帥[帅]哥 shuai4ge1: handsome guy; lady-killer; handsome (form of address)/h6> 墨西哥 mo4 xi1 ge1: Mexico
[メキシコ mekishiko: (ateji / phonetic) (kana only) Mexico]/h6>
兄弟 xiong4di4: bros; comrade; I, me (humble term)
[けいてい keitei OR きょうだい kyoudai]
ご兄弟 | ごきょうだい gokyoudai: siblings; brothers and sisters
兄妹 xiong1mei4: brother(s) & sister(s)
[けいまい keimai: older bro-younger sis OR きょうだい kyoudai]
仁兄 ren2xiong1: (honorific written address) My dear friend
家兄 jia1xiong1: (polite) my elder brother

Japanese common word
兄上 | あにうえ aniue
: older brother

Chinese expression / idiom
難兄難弟 nan4xiong1 nan4di4
: brothers in hardship. Fellow sufferers (in the same boat)
親兄弟,明算帳 [亲兄弟,明算帐] qin1 xiong1 di4 , ming2 suan4 zhang4
: even with your own brother, keep clear accounts
Etymology
:
哥
会意
Associative Compound
.
One person singing 可 (ke3: can; may) on
top of another 可 (ke3: can; may)

形声 Pictophonetic.
Suggests the meaning while 可 (ke3: can; may) provides the sound.

假借 Phonetic Loan.
Original form of 歌 (ge1: to sing).

兄
会意 Associative Compound.
Older brother 儿 (er2 or r: son radical 10)
ordering 口 (kou3: mouth) younger ones about.

Examples:
我的兄弟如我親哥哥一樣。
wo3de xiong4di4 ru2 wo3 qin1 ge1ge yi1yang4.
My brother (in arms)/comrade is like my own blood brother.
Resources: Chinese Dictionary | Japanese Dictionary